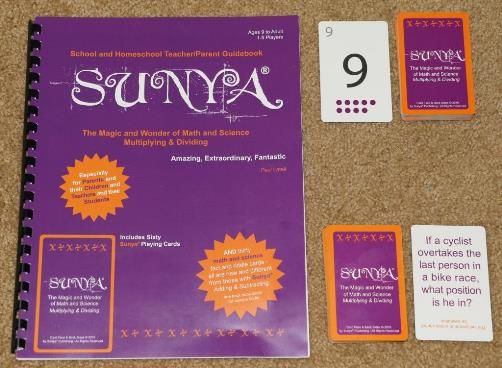 Math facts are something that a lot of kids, mine included, struggle with. Learning my math facts never came easy to me and it seems that my kids inherited the same struggles. We do all sorts of things to make learning our facts fun and one of the things we've recently been doing is playing a new game from Sunya Publishing called The Magic and Wonder of Math and Science Multiplying and Dividing. These products aren't *quite* ready for purchasing yet, but they will soon be, and you can keep an eye on the website for details if this is something that you think you'd be interested in using with your kids.
As I mentioned, Sunya is a pretty new company and so when we agreed to review this set we got kind of a sneak peek which was very cool. I don't get to try things out before they are available to everyone very often, so this was something I very much looked forward to. This set includes:
Instrustional Game Booklet/Instructions
Multiplying & Dividing Playing cards (60 cards)
Multiplying & Dividing Number Line Tool
Math & Science Fact Cards (30)
This game is geared for ages 9 and up, but if your child has their multiplication & division facts memorized and are younger than 9, could easily play as well. Needless to say, my younger kids did NOT play this game with us, although they did enjoy watching. Maybe they soaked up some math facts just by watching…..I can hope!

The black and white, spiral bound instruction booklet leads you through the rules and ways to play. I would probably take this apart and have it laminated if this was a game my children wanted to play over and over because the booklet is paper and will tear/wear if handled often. There are a few full color pages inside, but it is a mostly black and white instruction, which is fine. Nothing is lost because of it.
This was the one place I did find this game to be awkward. The instructional manual is 25 pages long and very detailed, almost too much detail. I needed to read through these instructions many times over before we could begin playing. There are several visual examples of game play, etc, but the instructions could use to be simplified and condensed for ease of use. There is no possible way that my kids could have figured out how to play without an adult. It was just too complicated and wordy to easily grasp the way the game is played. After I practiced playing on my own and read through the instructions several times, we were able to begin our play.
We chose to play the multiplication game since we have a couple of kids learning those facts right now. To play, one player is the dealer and as the dealer, they place a number sentence on the table (ex. 4 x 6 = 24). Each player is then dealt 4 cards and play begins. Each player must use the cards in their hand to make a new number sentence. If they cannot do that, they need to draw cards from the deck until they have a card that they can use to make a new number sentence.
The first player to play all of their cards and say SUNYA! (which is the Sanskrit word for empty) is the winner and as such, they get to draw a card from the fact card pile. They get to ask the other players the question and see if they can answer.
The game has additional instructions for making it more challenging and for more advanced players. We decided to just play the simplest form because we aren't ready for the more advanced options, but it is nice to know that we have those options when we are ready for them.
My final thoughts:
After we fully understood the game and started playing, my older girls really enjoyed this game and found it to be a lot of fun. They didn't think it was too difficult and found it to be enjoyable. I thought that they were doing a really great job of using these math facts and several times they made a number sentence that I didn't think they would see in their hands. I was surprised and delighted by that!