.

We had the unique opportunity to try out and review for a product called
Forbrain
from
Forbrain-Sound For Life LTD
. This is a headset that uses some pretty amazing technology. Through brain conduction and dynamic filters, it helps to retrain your brain to hear and speak more clearly. This headset can help with so many things! From improving pronunciation (which is where we were looking for help!) to improving long term memory, this headset is built to use your own voice and the vibrations through the bones just in front of your ears to reprogram your brain.
The twins have some speech issues that we have been working on, but that seem to be very slow to improve. The idea is that with this headset, the user will wear it 15-20 minutes a day, every day while doing their normal activities. We chose to have each of the twins wear it for the specified time each day during school hours so that they could do their everyday activities and work. Over the course of the review period, we have seen improvement!
The headset is simple to wear. It looks and feels just like any other set of headphones, with the exception that the earpieces go in FRONT of the ear, and not into the ear itself. The headset also has an adjustable microphone that sits at the mouth level and when you speak, not only do your HEAR yourself, but you also FEEL yourself speak. This was the most amazing part for our kids. They would say a word, then hear me say the word correctly and they could not only hear the difference, but also feel it. This made trying to understand how to form the words and speak them with correct pronunciation easier and less frustrating for them. A lot of the time, we wouldn;t even have to point out that it was spoken incorrectly, they would say, "No, that's not right." and try again.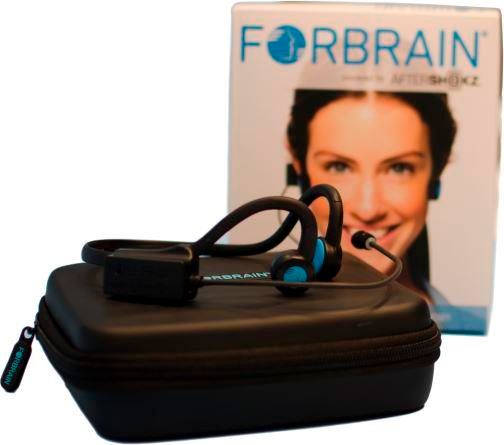 We will continue to use this headset, and not just for the kids! My husband spends a fair amount of time with customers on the phone and knows that he tends to speak too quickly. After using the headset for a while at home, he is improving his customer service by recognizing when and how he is rushing through and speaking too quickly. I have used the headset and know know that I tend to speak too quietly and string a lot of words together! It's really an amazing tool that is beneficial to my entire family. The twins look forward to using it during the day and often ask for a little extra time later in the day.
If you would like to see what others members of the review crew thought about their Forbrain, and how they used it, you can check out their links by clicking the banner below. I have read through a few of them and I am amazed at the creativity and the many, many ways this product can be used and even enjoyed while helping your brain to train itself. It's honestly just amazing!