I'm very excited to share with you a fantastic resource for your homeschool! NotebookingPages.com offered the Review Crew access to their Lifetime Membership for review and boy, did we use it a lot. There are notebooking (and more) pages for just about anything you can think of, which is good when you are trying to add to or flesh out a topic you're working on. But it's more than just notebooking pages and I'm so pleased to be able to share with you about them today.
For some of my kids, this was a first. For others, they were old pros and these pages worked equally well for both. The account set up was simple, and after I had that taken care of I hopped on to do a bit of looking around. The first thing I noticed was the massive amounts of topics and styles there are to choose from. There are totally blank pages, pages with borders, coloring pages, pages that have some info on them already, copyworking pages, and more! There are pages that are just lined and pages with a place for a younger child to draw a picture to illustrate a thought, person, or as an answer.
There are even 3-D pages, but we haven't tried one of those out yet, but I'm planning on fixing that soon.
To get started, I let the kids pick out a few things that they were interested in and a few things that they were interested in for fun. Now, notebooking isn't going to be for everyone. I had a feeling that some of my kids would do better with notebooking than others and I wasn't wrong. However, I do think it's important to occasionally use them in our homeschool for the kids that DON'T really like them because they need to learn to use all sorts of resources in their learning. That being said, we were split down the middle with 2 kids loving these and 2 kids rushing through them to get done as quick as possible.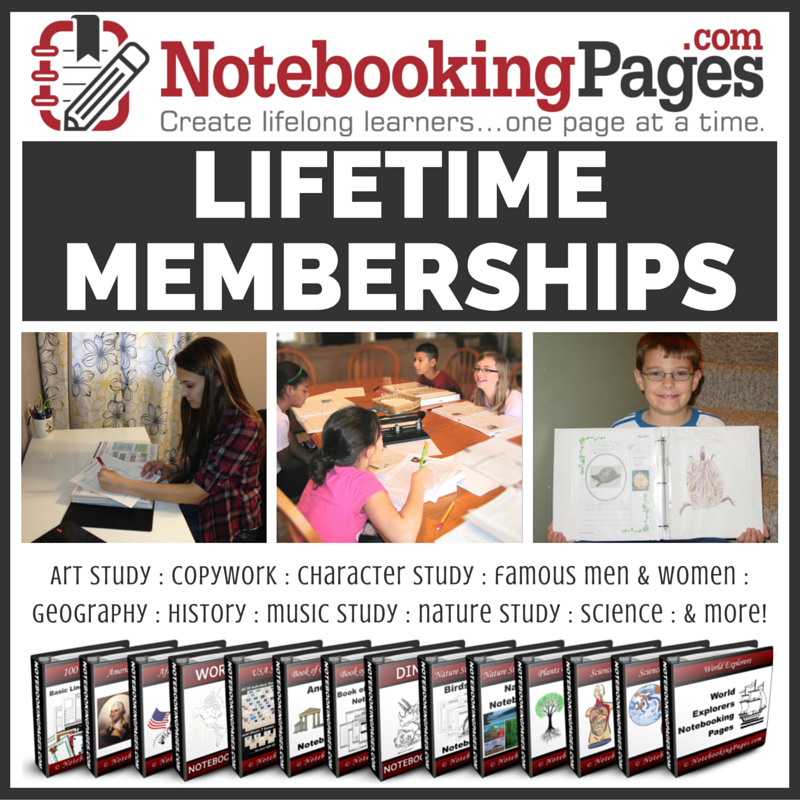 If you're wondering what notebooking pages actually *DO* in your homeschool, let me fill you in! If your child uses notebooking pages during their study of a topic, they can create a spectacularly BEAUTIFUL portfolio of a subject. This could be really helpful if you need to turn in samples of work or create portfolios in your homeschool anyway.
Be forewarned! There are A LOT of choices and the website is GIANT. You can feel pretty overwhelmed with choices, (or at least I did), so try to focus on one subject or topic at a time while you're looking through and try not to get bogged down from all of the choices.
I've been printing pages off almost daily for the kids that dig them and we have been trying all sorts of styles and types. Coloring pages have been popular with the kids who aren't fans of the writing and typical notebooking pages, so we have had those in the car for road trips, so that has been a lot of fun.
I encourage you to look through the website and see if you think it will work for you. If you feel like it does, you may want to consider purchasing the lifetime membership. For $97, you can gain access to all of the material that is currently available as well as any of the new material that is added in the future. This would be a really great deal if you are just starting out or are new in your homeschool journey.
You can visit the site and try out the FREE sampler (over 600 items in it) to see if it would be a good fit for you!
I've enjoyed using NotebookingPages.com in our daily school and if you'd like to see how other reviewers liked and used the pages, you can read through some more reviews by clicking the link below.