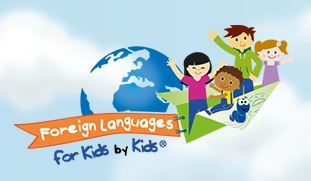 We've been spending some hot, boring summer afternoons doing something fun and educational! Adding a foreign language has been something that we have wanted to do for a couple of years now, so I was more than thrilled when I got the chance to try one that we have had our eye on. Foreign Languages for Kids by Kids could not have come at a better time, so I snapped up Starter Set I and set off for some foreign language fun!
The set included:
20 Week Curriculum Guide
DVD with 3 videos
Workbooks for each video
Stickers for use within your home
Flashcards (sets for each video)
This is conversational Spanish and is suitable for kids of all ages, although I feel it's probably best for younger kids and/or older kids who have had no teaching in Spanish. Ages 5-14 are the official age ranges. The videos are Spanish speaking only, so don't worry if your kids have no idea what the video is saying….they'll get it and it's all part of how the program works.
Students will watch the videos and do the corresponding lessons in their workbook for each lesson, and you can feel free to watch the videos as many times as you need for your kids to catch on. We generally watch each one two or three times, and I find that my kids have a pretty good grasp of the words for that lesson by that time.
The curriculum is simple and easy for both kids and parents to use. It requires little to no set up time for the teacher, so that gets it a big plus from me! We start out by watching the video each day. The 3 videos are divided into "flights", the first flight is to Lima, Peru. The workbook is referred to as "in flight magazines". During the video, there is a fun little skit with words illustrated on the screen as the words are used. This helps kids associate words with objects and learn the words more easily.
We take each day and work through it, going over any new or challenging words as they come our way. Because most of my kids are younger, we tend to watch the videos more than an older child probably would, but that is part of what makes this so ice- you can customize it for your family and do whatever works best for you.
After we go through the video lesson and go over any new words, we do the workbook activity for the day. My younger kids aren't doing the flashcards, but my older girls use them in the afternoon to either quiz each other or to play the games….the Go Squish is a favorite for all of them and something that all 4 can play together.
We have found this curriculum to be effective for teaching us so many new and fun Spanish words! We often refer to things around the house by it's Spanish name for practice and have had a lot of fun catching someone using the wrong word 🙂
If you'd like to see what other TOS Review Crew members thought, you can click the link below to read more reviews of this curriculum. As for us, we count this as a winner and something that we look forward to using!