I love to meal plan and do all of those types of things, but there are times in our life where we just don't really FEEL like taking the time to plan: busy days or weeks, times of sickness or changes in our regular routines (new babies, moving, etc). Since we were in the midst of a move I really thought this would be something amazing for us, to try out the MyFreezEasy.com Freezer Meal Plan Membership from MyFreezEasy. I just knew that I could do up a bunch of meals to pop into the freezer so our first weeks of being in our new house would be a little easier. I could feel great knowing that our meals were in the freezer and ready for us at any time. I really like the way that sounds!

Let's start out by giving you a few reasons why YOU might want to give this freezer plan subscription a go as well. The first one I can think of is that it's really affordable. The basic plan is just $7/month. I was paying more than twice that for another service that was just menu plans and it wasn't anywhere near as flexible as this one is. Included in that per month price, you will have access to 8 meal plans with 5 recipes in each. The premium plan (which is what the Crew received for this review) is just $10/month and while you still receive the 8 meal plans with 5 meals each, you also have the option to totally customize your plans with it. I have found that to be beyond amazing!
The meal plans that are included are:
Traditional Meal Plan
Gluten Free Meal Plan
Slow-Cooker Meal Plan
Clean Eating Meal Plan
20 meals Plan
ALL CHICKEN Meal Plan
ALL GROUND BEEF Meal Plan
ALL PORK CHOPS Meal Plan
Customizing with the Premium Plan (I'm in LOVE with this) is that you can just drag and drop any meals from any of the meal  plans to customize your very own meal plan. This is awesome if you have some items you want or need to use up! This is one of the handiest features as far as I am concerned.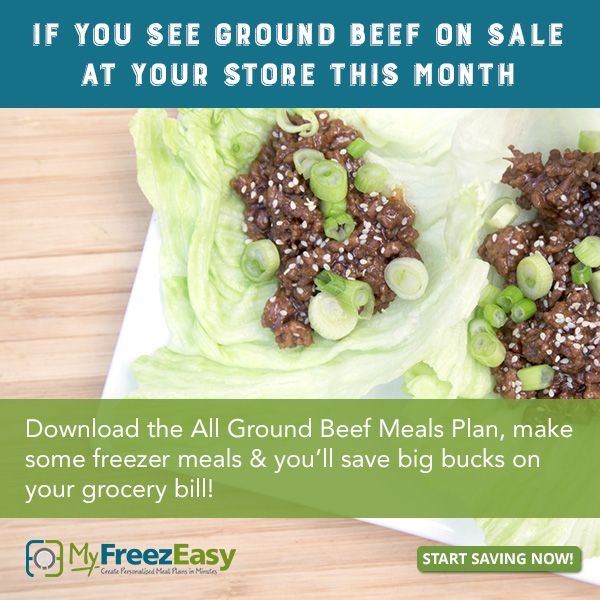 This subscription is so easy to use and everything you need is right there, so you can get from the grocery store to your freezer in no time flat. All of the things you need are laid out for you perfectly in printable sheets. Printable for all of the below are included for you:
Recipes
Directions on what you need to be able to assemble the meals and How to assemble them
Shopping list by recipe
Shopping list by store
Freezer meal prep day shopping list
Freezer meal prep day shopping list by store
Labels for the recipes
The nice thing is that they are always there so you can print out all of them or just what you need. Either way, they are all there and provided for you to use however works the best for you and your method.
The Premium Plan is, in my opinion, a deal for $10 a month. There are a LOT of really great recipes for you to try. There is a lot of value in knowing that your meals are in the freezer and ready to go so virtually anyone who is able to cook can get dinner going. I have always tried to plan my meals out religiously but sometimes we would slip up and eat convenience or fast food much more than we would like. That is hard not only on our bodies, but our pocketbooks as well.
I made up two sets of recipes before we left our old home for our new one. I did the all ground beef and the traditional meal plan. It was very simple- I just got the meal plans that I wanted put into my customized meal plan and printed out the grocer shopping lists. I got everything that I needed, came home, prepped the meals and stowed them in the freezer. It was pretty simple to then have them waiting for us when we got to our new house. I know we all appreciated having hot, homemade, good for us meals those first couple of weeks in our new place when so much was so unsettled and in upheaval.
If you'd like to see what other members of the crew thought about MyFreezEasy.com's Premium Plan, click the link below!