Art is such an important way of working the mind and using your creativity in new ways! I firmly believe that homeschool families should be teaching some form of art in their curriculum. But, if you are like me and DO NOT have an artistic bone in your body, how do you teach art exactly? I always felt at a loss here. I'm very crafty with my hands, but I never felt like I knew how or what to try to teach. When the opportunity came along to review the Entire Level I course from ArtAchieve I wondered if this would be a good fit for us. Read on to see what I thought!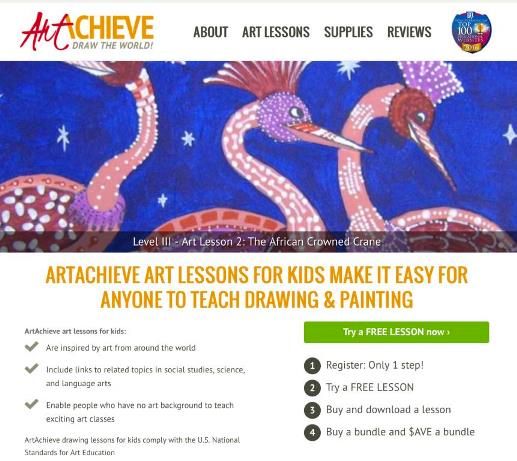 ArtAchieve is an online art curriculum. The lessons are presented to you and all you need to do is print out the things you'll need and supply some very basic art supplies. We gathered up black fine tipped markers, crayons, markers, colored pencils, oil pastels and acrylic paint. We had 90% of it in our home and during a trip to town I was able to pick up the couple of things that we didn't have very inexpensively at our local mega mart. No expensive or hard to find items needed! I really loved that.

Something I want to be sure to point out is that there are several FREE lessons in each level available that you can try out and see if you like available when you click on the link above. We decided to do level I because I consider everyone in my home an art beginner. There are two additional levels that you can choose if you have more advanced art abilities. The free lessons are a great place to decide what lessons will be best for you. The lessons are aimed at people 6 to adult, so they are really something the entire family can be involved with if you wanted (and we did!).
Each lessons works the same way. It takes about 45-60 minutes to complete. First, you print off the warm-up exercise and the print of the drawing for the lesson.
Next, you watch the lessons. Each comes as a video or as a power point. We watched the videos. Mr. Hofland will give a little talk about the subject you are working on (there are several- geckos, cats, bugs, etc) and shows you the original work that inspired the lesson. Our favorite parts were seeing the original artworks and the relaxation exercises! It was a lot of fun.
The printed off warm-up is done first. You will copy lines into a blank box, trying to copy the lines in the box above you. This gets you ready to make the shapes and lines that you will need to do the lesson. The next part is doing the actual lesson and coloring or painting it in.
These turned out so amazing! My girls were so proud of themselves for the art that they were able to create all on their own.
As a mom who is not artistic in this way, I was very appreciative for all of the tools and ways that making and teaching art to our kids was offered in this curriculum. It was so effortless and it didn't cost an arm and a leg, which I have been afraid of when looking at other art curriculum options.
This was fun, it was relaxing, and it was hugely popular with the whole family. I was very pleased with this and we have been having a blast using the courses this summer. If you'd like to see what the other levels looked like and what my fellow reviewers thought of ArtAchieve, you can click the banner below.